This article is the first in a series I'm calling Cool Tools. I will share sites, software, plugins and gadgets that save me time, money or somehow help to streamline my business in an effort to help you do the same.

I'm sure you've already learned that having a good place to get photos, images and stock art is important to your Virtual Assistant business. We need them for blog posts, newsletters, social media sharing and various things associated with client projects.
Where can you go to get quality images if you need something royalty-free and actually free to download? I go to Dreamstime.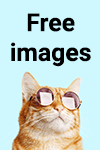 They are easy to use and the site is simple to navigate. Just create an account for yourself and have a look around! If you're on a budget, they have something like 600,000 images in a free section. Yup, they're really free!
They have tons of categories to search as well as a linked blogs section where you can read up on all things images. Want to make a little money? You can sell images there as well.
Searching for images on Dreamstime has definitely saved me time in my business. Check them out to see what they can do for you! Just click on any of the links or images in this article to learn more.
Stay tuned for more Cool Tools!
Don't miss any tips or news from New VA Advice! Sign up here and I'll visit your inbox. You can also keep the conversation going on my Facebook fan page. See you there!